Jeffrey Wilens is engaged in the same practice as Melvin Weiss an attorney who was jailed for promising high pay outs to plaintiffs and encouraging them to join in frivolous lawsuits.
Via LATimes.com – Read More Here
According to investigation, lawyers pleaded guilty for roles in what prosecutors described as a criminal conspiracy that lasted for decades..
The Law firm that they built together dominated the lucrative field of class action litigation, filing many lawsuits against publicly traded companies on baseless grounds.
He pleaded guilty to conspiring to make secret payments to lead plaintiffs in such class actions,  and MAKING UP FAKE VICTIMS in their cases.
Lakeshore Law Center run by Jeffrey Wilens has a history of filing class action lawsuit using his family members as professional plaintiffs, so it's more easy to hide that they are all made up fake plaintiffs.
Melvyn Weiss
Plaintiff Payments
After conducting an investigation, the U.S. Justice Department alleged that four of Melvin Weiss firm's partner lawyers ran an illegal program that paid secret kickbacks to plaintiffs in return for filing the class action lawsuits. In 2007, prosecutors alleged that Weiss disguised a $175,000 kickback Dr. Steven Cooperman, one of the firm's professional plaintiffs, as a payment for the option to acquire a Picasso painting from the Beverly Hills eye doctor.
Milberg Weiss, now known as Milberg LLP, paid $75 million to settle federal charges related to the kickbacks, which enabled the firm to gain an edge over other attorneys in winning the lucrative lead role in securities class actions. After pleading guilty in April 2008 to charges of racketeering conspiracy, Weiss was sentenced to 2 1/2 years and served time in a minimum security federal prison in Morgantown, West Virginia.
His law firm was indicted in 2006, along with other dirty class cation lawyers David Bershad and Steven Schulman, for their role in the 10 years conspiracy to pay kickbacks to clients to serve as name plaintiffs in class actions. According to the prosecutors The scheme allowed Milberg to have aready stable of plaintiffs that filed cases quickly just like Jeffrey Wilens's family members.
Still, in handing down a sentence on the high end of the 33 month plea agreement, Judge John Walte pointed to what he called the seriousness of the offense, which involved a "nationwideconspiracy that continued for decades."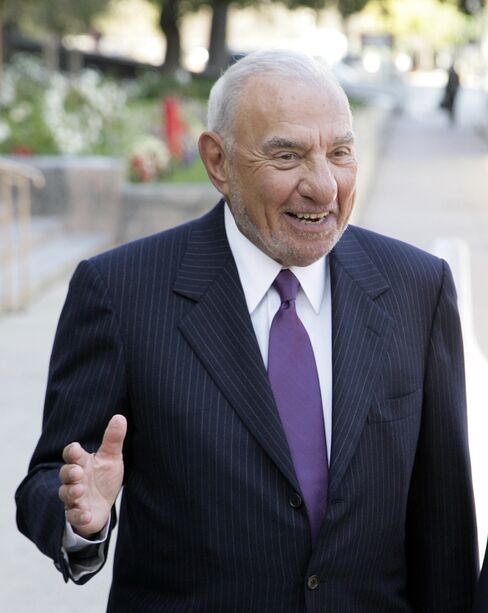 Melvyn Weiss when he was still a "Lawyer"
Please Leave your comments below